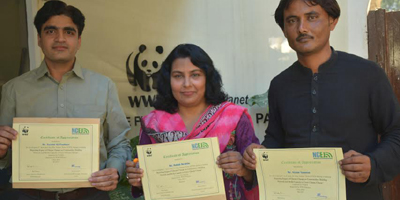 JournalismPakistan.com February 09, 2016


KARACHI: WWF-Pakistan presented the Best Story Awards to three journalists for their work on climate change Tuesday in Karachi.

The first award went to freelance journalist Rabab Ibrahim for her story on the rise in sea level; the second was won by Associated Press of Pakistan (APP) Reporter Rashid Ali Panhwer while Nizam Samoon of Geo News got the third award for his story on the disappearance of indigenous seeds from Thar Desert.

The stories produced by these environmental journalists were published on www.thenaturenews.com followed by a recent training 'Reporting impacts of climate change on communities: Building network and media capacity to cover climate change' organized by the National Council of Environmental Journalists (NCEJ) in collaboration with the Earth Journalism Network (EJN).

Around 40 journalists were trained during these sessions held at different locations.

Speaking on the occasion, WWF Pakistan Biodiversity Senior Director Rab Nawaz said extreme weather patterns in Pakistan, especially the rise in temperature, frequent cyclones, uncertain rainfalls, super floods and severe droughts are caused by climate change. The events brought about drastic changes in the socio-economic and environmental conditions of the country. The situation was quite visible in recent floods across the nation, the heat waves in Sindh, particularly Karachi and the current drought situation in Tharparkar district.

The director also shared that coastal communities of Pakistan were more vulnerable to these climate change impacts, hence they require adaptation practices to address the issue. He also urged that there is a great need for building the capacity of journalists so that they highlight and document the impacts of these climate changes on local communities in a proper way.

The president of NCEJ Amar Guriro said that climate changes were not a local or national issue but a global one. "People living in different areas of the country faced various challenges due to the impacts of these changes which included sharp decline in livelihood opportunities, loss of habitat and the disappearance of rich biodiversity coupled with degradation of freshwater resources," he said, adding that keeping in consideration the adverse impacts of climate changes, the training was provided to journalists.

He also said that during the training sessions, media persons were briefed on the rate of sea erosion and sea level rising in Pakistan's coastal areas, environmental degradation in the Indus Delta, human migration due to climate changes and the drought situation in Tharparkar.
Further, the journalists were taken to the coastal belt of Sindh especially Ibrahim Hyderi and Rehri Goth in Karachi and Kharochan in Thatta where they had first-hand experience of the impacts of climate changes.