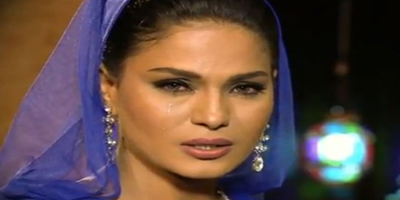 JournalismPakistan.com July 20, 2012
KARACHI: Having got the desired attention and publicity, sensibility has finally prevailed with the newly launched Hero TV, belonging to the Express Media Group, deciding controversial Pakistani actress Veena Malik will not be debuting in the Astaghfar Show, a special program for the holy month of Ramadan.

According to sources in Express and Hero, the decision was taken in the face of a mounting public outcry and an online petition that had garnered plenty of support and just could not be ignored.

"It was decided we could not go against the wishes of the people. Although preparations had been made for Veena's debut in the program, these were shelved. The decision was necessitated," one source said, hinting that pressure could have come from the very top.

In the week's preceding the decision not to have the 'Big Boss' star host the religious program, the channel had been advertising Veena through promos and news updates on the contentious event.

In one of those promos people were advised to, "Seek forgiveness for their sins" with dramatic visuals of hellfire etc. What really triggered widespread anger was Veena's proclamation that she would be seeking forgiveness for 'everybody's sins' during the holy month. http://www.youtube.com/watch?v=y473uZZ0Tbk

It was a little too much to digest," says Arshad Jawad, a second year college student, even though he admits to being a Veena Malik fan.

"I'm glad my children will not be tempted to see that woman on TV," confessed the mother of three teenagers.

Similarly, there has also been opposition to a program to be hosted by ARY's Maya Khan of the intrusive 'date-bashing' repute alongside that veteran exponent of the gab, Dr. Shahid Masood.

And in a novelty development, Shahid Afridi might be making his 'religious' debut too for Express.

While Veena has been forced to bow out, this Ramadan might still manage to make that pioneering televangelist, the man of the many expensive coats and kurtas, Dr. Amer Liaquat, work hard for his money.