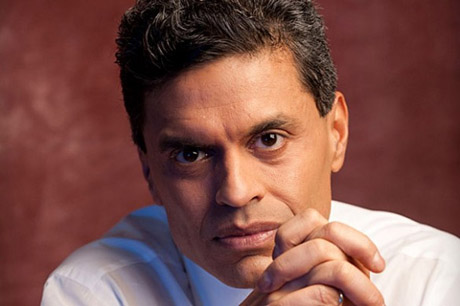 JournalismPakistan.com August 11, 2012
CNN host and Time magazine contributing editor Fareed Zakaria was suspended by his employers on Friday after he acknowledged copying material for a recent column he wrote about gun control from another writer.
Time said it was suspending Zakaria for one month, "pending further review," and CNN said it had also suspended him for his journalistic misstep. CNN put no time limit on its suspension.
The sanctions came after Zakaria issued a public apology for borrowing from a recent New Yorker essay about gun control for a column he wrote for Time this week.
"Media reporters have pointed out that paragraphs in my Time column this week bear close similarities to paragraphs in Jill Lepore's essay in the April 23rd issue of the New Yorker. They are right. I made a terrible mistake," Zakaria wrote in his apology.
"It is a serious lapse and one that is entirely my fault."
Ali Zelenko, a spokesman for Time, said the magazine accepted Zakaria's apology but felt compelled to act against him because he had violated its standards for all columnists.
"Their work must not only be factual but original; their view must not only be their own but their words as well," Zelenko said.
CNN said its suspension of Zakaria was due to the fact that he wrote a blog post on CNN.com that was similar to his Time column and included "similar unattributed excerpts."
Indian-born Zakaria studied at Yale and Harvard, was managing editor of Foreign Affairs magazine and then editor of Newsweek International for 10 years before moving to CNN in 2010 to host Fareed Zakaria GPS.
Friday's public embarrassment for Zakaria followed a recent scandal involving New Yorker staff writer Jonah Lehrer, who resigned on July 30.
Lehrer, a science journalist and author, quit after admitting that he made up quotes from legendary singer-songwriter Bob Dylan in his book "Imagine: How Creativity Works."- Reuters