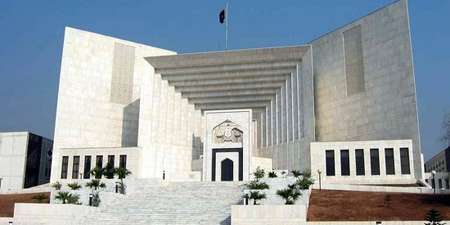 JournalismPakistan.com May 09, 2017


ISLAMABAD – The Supreme Court has directed the Sindh High Court to speedily rule on cancellation of BOL TV licenses by PEMRA.
At a hearing Tuesday Justice Qazi Faez Isa asked who owns BOL, Labaik and Axact.
He ordered that record of directors of BOL and Labaik be presented before the court.
On May 3, PEMRA announced the cancellation of BOL News licenses after the interior ministry did not grant clearance to four of their directors. But the following day the Sindh High Court suspended the PEMRA order and granted stay.
Justice Isa asked Chairman PEMRA Absar Alam if BOL was running without being granted security clearance.
PEMRA chief said that security clearance was given during the interim government. The clearance letter was from a senior ISI official, he told the court. But later, the interior ministry canceled it, he said.
Alam explained that four directors, inducted by the channel at a later stage, were not given security clearance.
The counsel for BOL, Babar Awan said that they had not hidden anything from the court. PEMRA, he said was acting against one channel and its proof is that the entire PEMRA team is in the courtroom today.
The court directed BOL management to present all records about its directors at the next hearing on May 16.
Image courtesy: paakistan.com