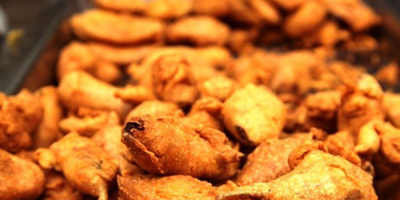 JournalismPakistan.com July 23, 2012 Steve Manuel

It's Ramadan again, that time of the year when the newsroom has a certain ambience and mood that's not there for the other 11 months of the year. Seen plenty of newsrooms in my time and they are always the same no matter where… Lahore, Karachi, Islamabad or Dubai.

To begin with there's a certain easing of the usual noise and chaos, frenetic urgency and dog-eat-dog edge that exists in newsrooms most other days. Instead, it is replaced with a noticeably measured pace of carrying out work and a visibly orderly and a focused manner of going about tasks i.e. until the time for Iftar draws near and then it's all-out frenzy for a while as people hurry to get their job completed before breaking their fast and offering prayers.

After Iftar the newsroom once again wears its newfound aura of calm.

I noticed that even some of the most gregarious or noisy individuals noticeably 'chill' during the holy month. The news desk doubles its efforts to ensure that certain types of stories are modulated and reporters, who hate even a single word altered when it comes to their reports and stories, are more open to suggestions and changes.

There is less aggression overall during Ramadan which is in stark contrast to the usual conditions in this profession in which all players have huge egos and larger-than-large personalities and where words can quickly lead to blows.

There is a special bonding of colleagues at the shared Iftar meals, a reaffirming of friendships and sometimes overtures of peace and forgiveness from individuals who are not on speaking terms. These are touching moments and further illustrate the spirit of Ramadan.

When I worked at The Muslim as a junior sub-editor in the early 80's, only a few people would be left in the newsroom at Iftar time. The rest would either take their Iftar meals to the park next door, which has now become an extended market, or grab a meal at Haji's restaurant near Sangam Paan House in Aabpara market.

Ahmed Hassan, Salim Bokhari, A K Chisti, Khalid Akhtar, Zia-ur-Rehman and Merry Max and sometimes Anwar Iqbal and B K Bangash would be among the few individuals who would stay on in the newsroom to ensure nothing went amiss.

Merry Max, would groan that his knees would not allow him yet another trip up or down the stairs, trying his best not to curse as was his habit. One could see the pleasure light up his face as he smoked his first cigarette of the day.

Such small things made my day at The Muslim.

But every now and then nearly everybody would stay back and a normal Iftar would metamorphose into a hearty Iftar party.

On one particular occasion, a senior journalist discovered his Iftar meal from home had mysteriously vanished; as a prank, a young sub-editor had found it and consumed it. Once he realized that it belonged to the senior, the sub didn't quite have the courage until much later to confess what he had done at which point the senior scolded him, all the while yanking him by the ear as if he were a schoolboy. Of course all of us were delighted.

The reporters' room and news desk at the Pakistan Times were the most boring, with people more interested in slinking home, not showing up or even sleeping right up till Iftar and then disappearing. Often I would end up in the reporter's room all by myself for a good hour or more until they returned.

It seemed Ramadan at the Pakistan Times newsroom was a sarkari one; sad and without soul.

But the best memories I have of Ramadan are the ones spent in two Dubai newsrooms – at the Khaleej Times and Dubai TV.

Every year for almost 14 years I loved the Ramadan experience in Dubai. It was not only the city that celebrated the holy month, yes celebrated, but so did those of us who worked on the news desk.

To begin with we mutually worked out that during Ramadan on Friday no Muslim chief sub or sub-editor would have to work the afternoon shift. This was to ensure that the Juma prayers were not missed. So the desk would be manned by the rest of us … Christians, Hindus and Buddhists. The favor was returned on our religious occasions. This was harmony and we loved it.

One of our chief subs, Khalid Hussain, used to write a column on Islam and during Ramadan he would find another gear. His writing would be phenomenal and often I ended up proof reading his column. Yet another of our seniors, Khawaja Zubair, who was in his late 60s and until quite recently working at the Dawn, Karachi, also used to make the Ramadan experience very memorable through his writings, advice and admonitions.

Every evening, just a few minutes before Iftar, all of us would gather in the tea-room where a long table had been laid, featuring dates, apples bananas, oranges, pakoras, samosas, vegetable rolls…. other stuff.

As soon as the Azaan was heard, the fast would be broken even by those who were non-Muslims. It just seemed the natural thing to do. It was here that we caught up with the day's events, personal matters, professional matters and what have you. There was always a lot to be said. It was almost as if people had also been frugal with words all day and some of us had because of tiredness brought on by non-stop work, at times having to individually make up to eight pages or thereabouts.

There was always a predictable end to these Iftari sessions; our respected but sometimes 'naughty' night editor, Jamil Akhter, currently night editor at Dawn, Karachi, would gauge enough time had been spent in the tea room and would grab the largest chilli pakora he could find. Holding it by the stem in an upward position, would announce: "Chilli anyone?"

Of course they were no takers and rather than answer the question or catch his gleaming eye, would start slipping out of the room. The ruse never failed.

One other thing about Ramadan and Khaleej Times, for those of us working the night shift we got to take home a nice Sehri packet – baryani, chicken chukka (a broast sort of South Indian invention', gravy, chapaatis, samosas, apples and pakoras.

Come Eid, the desk would have to manage without its Muslim staff. That's the way it was and we would not have it any other way.

Dubai TV offered a different kind of Ramadan altogether. Our Arab colleagues would not make any concession for Ramadan. "It is a personal obligation; it has nothing to do with work," they would say and for the entire day they would work just as hard as always. This was a tremendous motivating factor and show of character.

The newsroom, however, tended to be a quiet one until after Iftar when the noise level would pick up by several decibels and the 'laa's' 'naam's' and 'yalla's' would be flying thick and fast.

Iftari itself was a grand affair. So grand indeed that I used to feel embarrassed and often dodge going to the cafeteria which could house up to 200 people. It was embarrassing because here were people who had fasted all day and patiently waited their turn to open the fast when they should have been the first. Instead certain expats would not only make a beeline for the buffet tables, but pile their plates on high.

The Arabs would often just open their fast with a date and some water, offer prayers and return for a small meal. On the other hand certain expats, Pakistanis, Indians and Brits, would not only stuff their faces but would later have special packages made for their families.

For us though the most important test at Dubai TV and the Khaleej Times would come towards the end of Ramadan, the night the Eid moon would be sighted… then the entire newsroom would be shuttling back and forth trying to figure out which Sheikh had sent which Ruler Eid greetings. If one was new to the job, this was an impossible task so only the veterans were considered. A veteran would be somebody who had spent at least seven to eight years in the Gulf. This nightmare, consisting of dozens of pages, would take several hours to compile properly and always spelled the tension-ridden end to a wonderful Ramadan.