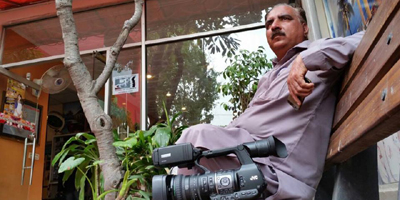 JournalismPakistan.com April 28, 2015
LAHORE: The University of Punjab organized a seminar on crime investigation reporting on its premises to pay tribute to late investigative journalist Asad Abbas Sahi.
Asad was the chief reporter at City 42 Television channel and died of cardiac arrest on April 4.
Speaking on the occasion, Vice Chancellor of the university Professor Dr. Mujahid Kamran said that Asad was being remembered for his professional work. "You (students) should take a lesson from Asad Sahi's professional life and work hard to become a successful journalist," he said.
Senior crime reporter in Lahore Mirza Naseer Baig said the deceased was a hard working and honest journalist besides being an exemplary human being.
Khalid Qayyum, chief reporter at Daily Express, said Sahi was one of the best investigative journalists and the claim can well be ascertained by going through his work.
"Unfortunately, our news organizations pay less attention to investigative journalism and more to sensationalism. There is need to revive investigative journalism to highlight social problems," he said.
A large number of students, faculty members and working journalists attended the seminar. The deceased was the brother of Aoun Sahi and Nokhaiz Sahi, both of whom are journalists.