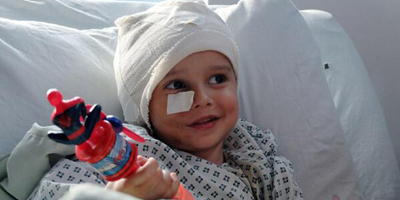 JournalismPakistan.com May 01, 2014
TORONTO: Six weeks after surviving a Taliban attack on a Kabul hotel that left his father, mother, brother and sister dead, miracle child Abuzar Ahmad arrived in Canada on Wednesday to start his life anew.
The son of a slain AFP reporter, a little Afghan boy who will soon turn three, was accompanied on a two day voyage from Kabul to Toronto by his new guardians, cousin Turaj Rais Mohammad and his wife.
Wearing jeans and a blue cap to keep him warm and protect the scars left by a bullet wound to his head, the orphan and his new guardians arrived in Toronto late Wednesday.
"Welcome to Toronto Abuzar," read a banner hung outside the airport by other members of his extended family, awaiting his arrival.
The slight child's interim residence permit was inspected by Canadian officials and he appeared calm, after having slept for much of the more than ten hour flight from Istanbul.
"We are extremely happy to arrive today in Canada," a smiling Rais said, thanking Canadian authorities.
"This will give Abuzar the best chance to rebuild his life after the tragedy, in a quiet environment and surrounded by the love and affection of his family members already settled in Toronto."
Abuzar survived a March 20 attack by Islamic extremists on the restaurant of the Serena, the Afghan capital's most prestigious hotel.

The victims of the attack included his father, veteran AFP reporter Sardar Ahmad, his mother, his five- and six-year-old siblings, another Afghan, two Canadians, an American and a Paraguayan.
The four assailants were killed by security forces while Abuzar was rushed to hospital with bullet wounds to the head, chest and leg.
Surgeons removed a one-centimeter-long bullet fragment from his skull and he was expected to face a long recovery but instead made a comeback and was discharged from hospital within four weeks.
Abuzar cannot walk without some help as the wounds in his leg continue to heal. But when he was discharged from hospital his doctors said he was otherwise in "very good physical condition."
He will need physical rehabilitation and expert help to get over the shock of the attack and the loss of his family.
After the funerals of his parents, his brother and his sister, Abuzar's surviving relatives decided that he should go to live and grow up with his aunts, uncles and cousins living in Canada.
In Canada, he will have access to better health care, education and a stable environment, far from war-torn Afghanistan.
His extended family in the Toronto area numbers more than 200, including a dozen cousins around his age.
Earlier this month, the family organized a memorial and expressed a desire to bring Abuzar to Canada as soon as possible.
The Canadian government granted their wish last weekend, providing Abuzar and his guardians with temporary residency permits — a possible first step to Canadian citizenship.
Canada formally ended military operations in Afghanistan on March 18 — two days prior to the Serena attack — after 12 years of combat and training of Afghan security forces.
AFP is holding a fundraising campaign to help Abuzar's family pay for his special care needs. Information about the campaign can be found here. - AFP