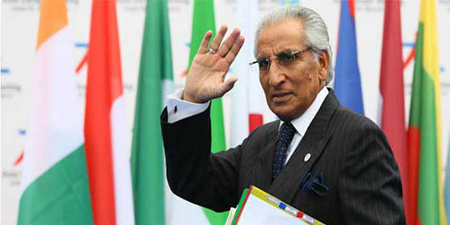 JournalismPakistan.com April 26, 2017


ISLAMABAD - Journalists Wednesday reacted to the news of the Dawn Leaks report presented to Prime Minister Nawaz Sharif a day earlier – some seeing it as bringing the controversy to a close and others questioning the roles of various institutions.
Talat Hussain's tweet appeared to give the impression that the government and the military are on the same page in bringing the controversy to a close. "Dawnleaks report has 'agreed upon' content. PM-GHQ had agreed to close the chapter. Another one of Raheel era's nasty legacies buried."
Mooed Pirzada did not seem happy with the role of the intelligence agencies in determining the alleged culprits. "If after calling it "National Security Breach", ISI, MI & IB still can't determine culprits then go home," he tweeted.
Jasmeen Manzoor thought a compromise had been reached between the government and the military. "Making scapegoats out of dawn leaks is unacceptable. If the Army and govt has compromised then kindly inform the public."
Though not directly commenting on Dawn Leaks, Umer Cheema was in an advisory mode. "It's imp for journos to confront the govt when misleading info or lies are fed. More we question, further they'll think before befooling us."
Shahzeb Khanzada questioned the government's tactics. "Scapegoating Pervz Rasheed n thn Tariq Fatmi.not making Abotabad com reprt public.Says alot abt Nawaz Sharif's legacy as a democratic leader."
Rauf Klasra thought the government needs a fall guy. "...when The King needs a sacrificial goat then you dont argue. Pawns to r to save King not argue or defy."
Omar R Quarishi came up with a tongue-in-cheek comment on the foreign affairs advisor to the prime minister. "Tariq Fatemi must have told Nawaz Sharif -- Oh Jee Mein Kee Keeta?!" He also wondered that "APP/PID didn't release any official pic of PM Nawaz Sharif-Tariq Fatemi meeting yesterday ... Wonder why."
Image: Tariq Fatemi, Advisor to Prime Minister on Foreign Affairs.