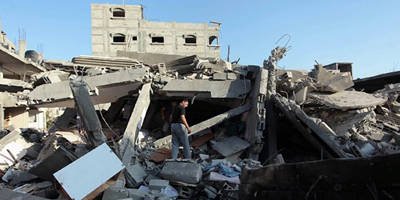 JournalismPakistan.com July 22, 2014
The International Federation of Journalists (IFJ) has condemned the killing of Palestinian cameraman Khaled Hamad on Sunday 20 July.

According to the Palestinian Journalists Syndicate (PJS), Hamad, 25, who worked for the Continue TV production company, was shot dead while covering Israeli military operations in the Shochaeyah Gaza neighborhood. The PJS says that Israeli forces also bombarded the house of journalist Mahmoud Al-Louh, who works for Al-Ashab radio station, while cameraman Kareem Tartouri was reportedly injured in another Israeli attack.

The PJS has demanded an end to Israeli attacks against Palestinian journalists and has appealed to the international community to intervene to help to stop the killing.

"We send our respects to the family, friends and colleagues of Khaled Hamad who was killed while doing his job to ensure that the truth is told," said IFJ President Jim Boumelha.

"What we are seeing in Gaza is both shocking and horrific. Journalists must be allowed to report what is happening and not be targeted by the army for their work. We call on Israel to stop the attacks immediately."