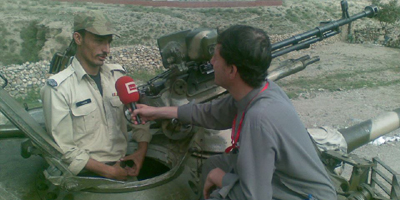 JournalismPakistan.com October 30, 2012
Germany's non-governmental organization Friedrich-Ebert-Stiftung (FES) has decided to bestow its human rights award on Pakistan's Tribal Union of Journalists for consolidating media freedom in one of the world's most dangerous regions.
FES, an independent political foundation associated with the Social Democratic Party (SPD) of Germany, honors individuals and organizations annually for their outstanding services for human rights in different parts of the world.
The FES announced that this year it would pay tribute to a Pakistani journalists' union - the Tribal Union of Journalists - which has been working for 20 years in the semi-governed tribal areas in the Pakistan's northwest.
The Tribal Union of Journalists (TUJ) is a representative body of over 250 journalists working for national and international media.
The award ceremony takes place in Berlin on October 31. (Photo courtesy FES)