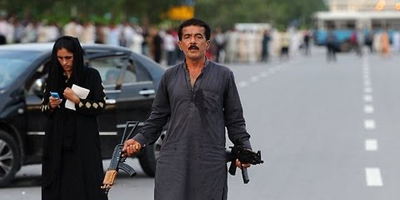 JournalismPakistan.com April 24, 2014
ISLAMABAD: A Human Rights Commission of Pakistan (HRCP) report released Thursday says that while the electronic media industry blossomed a decade ago strengthening the voice of the populace, yet it needs to be regulated.
The report on the State of Human Rights 2013 points out in the section on 'Quality of Content' that the media's role has often been criticized and they have been blamed in engaging in sensationalism and offering little follow-up on a ceaseless bevy of 'breaking news.'
The annual report then narrates several instances to make its point. It said that on August 15, when a middle aged gunman named Muhammad Sikandar was involved in a standoff with Islamabad Police, the media's role was criticized.
"Not only the media persons were standing dangerously close to the armed man and his car, despite repeated requests by the authorities, but some anchorpersons also called Sikandar and his wife (pictured) live on their mobile phone and dangled in front of him the possibility of sharing his demands with the nation.
"Sikandar and his wife took this opportunity to state that they were merely demanding enforcement of Shariah in the country."
The report said that the behavior of the anchor persons and their producers was not only criticized as irresponsible but also as a move which could potentially divide the people on whether Sikandar was a deranged person, a terrorist or a person trying to project himself as a good Muslim.
Another incident of irresponsible journalism mentioned in the report is about the television crew that barged into a Lahore massage parlor, accusing the women there of being prostitutes. The program was aired on February 9.
The report noted that this was the latest incident of media's moral policing as it recalled a similar episode in 2012 when a television host harassed young couples in a park in Karachi, supposedly to discourage them from being dishonest to their parents.
"The show received extremely negative feedback from viewers but it apparently failed to restrain other show hosts."
Also mentioned in the series of program hosts acting beyond their mandate was a presenter who gave away abandoned babies as gifts to childless couples in a live show.
"It was widely seen as a lottery in which a correct answer won you a baby.... critics asked people to imagine the children's anguish if they found out their parents had won them in a live game show on TV."