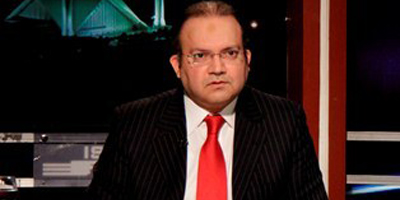 JournalismPakistan.com August 06, 2013 Steve Manuel

ISLAMABAD: For a long time now assumptions, conjecture, misconceptions and accusations have abounded about the credibility of Pakistan's media. It is an open secret that our media are generally considered inept and corrupt. This is a common opinion. Yet up till now no concerted effort has been made to set the record straight; no steps have been initiated or implemented to gauge, reflect, record and shape the credibility of our media.

All that is now set to change; Mishal Pakistan Pvt. Limited, which is headed by strategic communications specialist and former Samaa TV chief Amir Jahangir, have been working on a new methodology to create a credibility index for evaluating the content delivery mechanism of national and international news and current affairs as broadcast by Pakistan's electronic media.

The Index can be measured on various verticals of journalistic professionalism, including understanding of the subject matter, professional integrity, depth of knowledge, viewer engagement, and command over content discourse, biases and impartiality on the subject matter as well as the overall flow of communication with facts and accuracy.

It is the belief of Mishal that such an effort can create a real-time popularity index system, which in addition to the popularity of the content would also incorporate the accuracy and factuality of the content as well.
"The concept hinges on public, organizational and professional involvement and perceptions," commented Amir, stressing that it had been a long drawn out process that had involved many hours of hard work.

He said in finalizing and formulating the thrust of the Index, Mishal had examined international codes of ethics/principles of the Media Development Indicators of UNESCO, Principles of Journalism by Pew Research Center, European Code of Journalism Ethics, Asian Media Barometers by Friedrich-Ebert-Stiftung, Pakistan Electronic Media Regulatory Authority (PEMRA), Pakistan Broadcasting Association (PBA), Pakistan Federal Union of Journalists (PFUJ), Press Council of Pakistan (PCP), Council of Pakistan Newspapers Editors (CPNE), AGAHI 'shaping the future of journalism', Coalition for Ethical Journalism, Election Commission of Pakistan's Code of Conduct for Media, and Intermedia's Code of Ethics. The code of ethics framed by Pakistani media groups has also being incorporated, including those of Geo Asool, Dunya, Express Tribune, and Dawn.

"After reviewing all the relevant information, six media credibility indicators with 24 sub-indices were developed in order to measure the credibility of current affair programs anchorpersons in Pakistan. The study entails 31 current affair programs of leading Pakistani news channels," Amir said.

In its very first appearance online the Index has already got an appreciable response in that it has caught the imagination and interest of the media.

"This is a good effort," says Imran Naeem Ahmed, Managing Editor and Co-Founder of JournalismPakistan.com. "Let's hope people appreciate it for what it is. The intent and concept is meaningful."

"It was much needed," said young journalist Nur Ali. "Now we will know what the public actually thinks of our anchors and media and also we will have indicators showing where they are strong and where they lack."

Others were not so sure.

"Our media are fixed in their ways. They will find a way to get around this too," said Zafar Iqbal, a reporter for an Urdu daily in Islamabad.

Whether individuals do or don't, the Index has plenty to offer. It mirrors the credibility factor of Pakistan's media in several ways.

For example, based on its indicators and real time opinion, last week Nadeem Malik (picture), who hosts the daily current affairs program Islamabad Tonight for Aaj TV, was voted the Most Credible News Anchor. Nadeem has served as the Bureau Chief of Islamabad for CNBC Pakistan and also hosted the talk show News Guru.

Nadeem rated 82.00 per cent on the Media Credibility Index (MCI) as did Absar Alam who hosts Bottom Line, also on Aaj TV, which ranks as the second most popular current affairs program overall behind Islamabad Tonight.

The Islamabad Tonight host also topped the MCI in Ethics, Accuracy and Timeliness with 84.00, 93.33 and 93.33 MCI.

Najam Sethi, analyst on Aapas ki Baat for Geo TV, also did well. He topped in Competence and Fairness with 93.33 and 86.67 MCI.

Geo TV, the Index showed continues to be the top news channel despite claims by others. It topped the Index with 73. 80 MCI a rating it shared with Abb Takk TV. Capital, Dunya and Express followed respectively.

Islamabad Tonight was the top rated program with 82.00 MCI, the same score as Bottom Line while Express TV's Kal Tak, hosted by Javed Chaudhry, Capital Talk hosted by Geo's Hamid Mir and Capital TV's Belaag, hosted by Ejaz Haider followed in its wake.