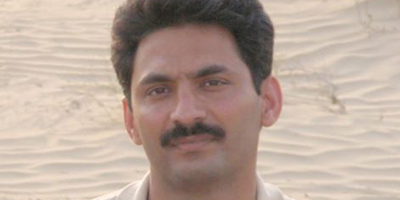 JournalismPakistan.com April 14, 2014
ISLAMABAD: Another journalist working for The News has been threatened through phone calls and the social media reportedly by a retired brigadier.
Ahmad Noorani (pictured) who works out of Islamabad has reported the matter to the Cyber Crimes Wing of Federal Investigation Agency, The News said Monday.
The paper reported that Brig (Retd) Tarik Niazi sent abusive messages and threats through Twitter and Facebook.
In his messages, the brigadier said he was in Islamabad and invited Noorani to meet him to settle scores. The paper said the journalist also received three threatening phone calls from this individual on April 12.
The same day, Ansar Abbasi, Editor Investigations at The News Islamabad received a threatening email message warning him to "behave" and "weigh the pros and cons" of his words.
The sender "Khaki Power' using the email ID khaki@safe-mail.net wrote: "This is not a reminder, it is a serious suggestion. Behave yourself and weigh the pros and cons of your words. Sometimes it is hazardous to bite the hand that once fed it.
"Skeletons can fall out of anyone's closets miraculously from the heavens and effectively ruin a "journalists" career. And we all have skeletons. Good day."
However, The News thought these latest threats could also be the work of some vested interests wanting to defame Pakistan Army.