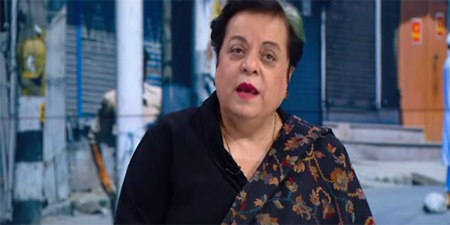 JournalismPakistan.com November 09, 2021


ISLAMABAD—The National Assembly passed the Protection of Journalists and Media Professionals Bill unanimously, paving the way to establish an independent commission to handle complaints against threats or acts of torture, killing, violent attacks, forced disappearance, and arbitrary arrests.
According to the bill draft, the commission shall include members from the Pakistan Federal Union of Journalists (PFUJ) and National Press Club (NPC) and representatives from the Ministry of Human Rights and Ministry of Information and Broadcasting.
Minister for Human Rights Dr. Shireen Mazari (pictured), who had moved the bill on May 21 this year, said that the legislation comprises five parts—preliminary, rights of journalists and media professionals, training and insurance of journalists, investigation and redress, and miscellaneous.
Similarly, in a tweet, Minister of State for Information & Broadcasting Farrukh Habib acknowledged the role of the Ministry of Human Rights for drafting and consulting journalist groups. He also lauded the efforts of the Federal Minister for Information and Broadcasting Fawad Chaudhry, who "played a significant role in preparing the draft of the bill."
The bill prescribes rights to journalists and media professionals, including every journalist and media professional's right to life and security of person, as per Article 9 of the Constitution.
The bill aims to institute a Journalist Welfare Scheme whereby each media owner shall produce a comprehensive, written safety policy and protocols for journalists and media professionals.
The bill empowers the commission to provide redressal to journalists by inquiring into their complaints of threats, or acts of torture, killing, violent attacks, arbitrary arrest, detention, and harassment, and determining eligible cases for compensation from relevant federal and provincial funds.
The bill also sheds light on journalists' and media professionals' right to carry out their journalistic work in conflict-affected areas within the country, without threats, intimidation, harassment, or fear of persecution or targeting. Moreover, it assures the right to safeguard the confidentiality of sources of journalists or media professionals.
It asks the government to take all necessary steps to defend journalists and media professionals from all forms of abuse, violence, and exploitation at the hands of any person, institution (private or public), or authority.
The reports of the commission would be laid before the parliament through the Ministry of Human Rights. It would provide measures to actively investigate, prosecute and punish acts of violence and any threats to journalists protecting their lives.