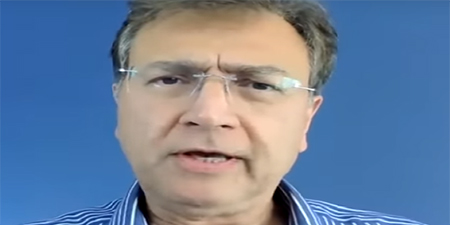 JournalismPakistan.com August 13, 2023


ISLAMABAD—Veteran journalist Shaheen Sehbai was left bemused by the news that, as a proclaimed offender along with ten others, the media in Pakistan cannot mention his name.
PEMRA on Saturday banned the media in Pakistan from naming and covering 11 proclaimed offenders, including journalists Moeed Pirzada (pictured), Sabir Shakir, Wahajat Saeed Khan, along with politicians Murad Saeed and Hammad Azhar and former military men Syed Akbar Hussain Shah, Adil Farooq Raja, and Haider Raza Mehdi.
Sehbai said the PEMRA order ironically led to the naming of the 11 proclaimed offenders it wanted the media not to name.
The journalists in the list of 11 persons also face treason cases in Pakistan. All of them are currently outside Pakistan.
The PEMRA order said Section 27 of its 2002 ordinance "prohibits media coverage of above mentioned individuals being proclaimed offenders on electronic media and refrain from airing any news, reports, statements or tickers of these individuals."