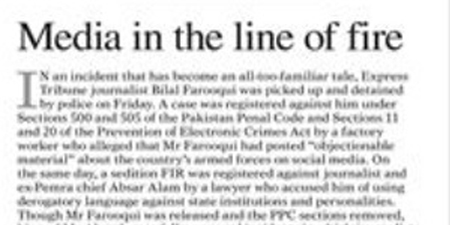 JournalismPakistan.com September 13, 2020


ISLAMABAD–Commenting on the registration of treason cases against journalists Absar Alam and Bilal Farooqui, Dawn, on Sunday, maintained journalists in Pakistan are living under constant threat.
The editorial Media in the line of fire said journalists are "watched, followed, intimidated and—if they don't comply with the 'requests' of the state—they are abducted or arrested."
The message, the paper said, is clear: "Big Brother is watching, and those who post criticism against certain institutions will be punished."
Dawn said today no journalist in Pakistan is safe. "From the head of a media group to a blogger, no one feels safe. The climate of fear that journalists live in is suffocating."
This atmosphere has led to an unprecedented wave of censorship and self-censorship, as journalists and media houses can see the writing on the wall.
Dawn said the government must acknowledge that this is a reality instead of dismissing abductions and threats to journalists as non-issues. "It must not be a party to this gross abuse of power and thuggery. International forums such as the Committee to Protect Journalists, Human Rights Watch and Amnesty International have time and again highlighted the routine harassment and intimidation of journalists in Pakistan. The world will not be fooled."