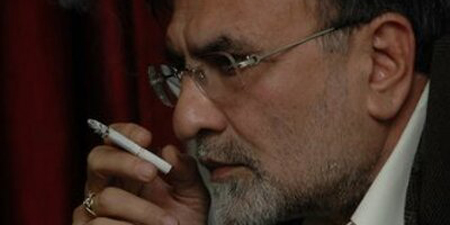 JournalismPakistan.com October 29, 2018


ISLAMABAD - Columnist, analyst, and senior journalist Nusrat Javeed has reacted angrily to an allegation that he received money from property tycoon Malik Riaz.
A Twitter user Awais Arsalan uploaded a Facebook video which alleges that leading journalists received money from Riaz, including Javeed who allegedly got Rs7.8 million along with a luxury vehicle.
Reacting to it, Javeed tweeted: "Bastard you are telling lies. And if Malik Riaz has ever given me a penny I will kill myself after killing Malik Riaz."
Murtaza Solangi, a former head of Radio Pakistan and a veteran journalist, asked Javeed to block Arsalan. "Shahjee, the Block button works perfect for idiots, bigots, Youthias and pseudo patriots perfectly. Use it."
In a tweet in Urdu, Ahmed Waqass Goraya asked Nusrat to find out who is behind such allegations and then hinted that Pakistan Tehreek-e-Insaf is the culprit and named Awab Alvi, son of President Arif Alvi, as the one who started this trend. "Now the in-charge of this filth is Farhan Virk," he added.
Photo: Twitter (@javeednusrat)