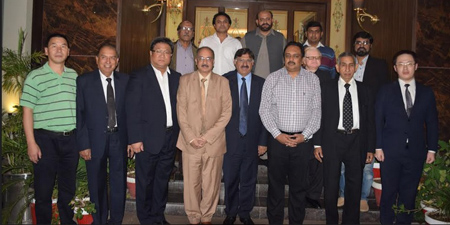 JournalismPakistan.com November 21, 2019


LAHORE — The Institute of International Relations and Media Research (IIRMR), a Lahore-based think-tank comprising seasoned media personnel and experts in international relations, recently organized a consultative discussion titled 'Pakistan-China Relations: Challenges and Prospects' at Punjab University Executive Club in Lahore.
The institute arranges multi-stakeholder debates around myriad issues like Pakistan's relations with the global community, national foreign policy, international disputes and ways to resolve them, prospects of partnerships with economic powers and mutual trade, and the role of media in nation-building. Besides, IIRMR carries out in-depth research and surveys on different issues of national and international importance and gathers primary data that proves extremely helpful for academics, students, researchers, and policymakers.
Senior Chinese diplomats — Deputy Consul General Lahore Mr. Peng Zhengwu and Mr Liu Zhan — and China's Sichuan University's Pakistan Study Center Director Mr. Song Zhihui addressed the audience.
Expressing his views, Mr. Peng said that China wanted a stable and secure Pakistan for uninterrupted investment flow, people-to-people integration, and smooth economic activities. "Stable system matters a lot. It ensures free flow of movement, sense of contentment and hassle-free business opportunities." He called for more welcoming atmosphere for Chinese companies, its national and foreign investors in Pakistan so that the latter's economy gets the boost it needed.
Terming China Pakistan Economic Corridor (CPEC) a signature project of the Belt and Road initiative (BRI), Mr. Peng said that CPEC was not just a corridor rather an epic path to realizing the dream of seamless industrial growth, joint ventures, Special Economic Zones (SEZs), socio-economic progress, agricultural development, cultural connectivity, and peace and prosperity in the region.
Sichuan University's Pakistan Study Center Director Mr. Song Zhihui said politically both Pakistan and China were fine, but economically still there was lot of room to thrive jointly. He highlighted China's booming demand for mango and other exportable items from Pakistan and asked the local exporters to capitalize the opportunity in best possible way.
"We have a number of Pakistan study centers in Chinese universities," he revealed and hoped for more MOUs to promote bilateral educational ties. He informed the audience that approximately 0.5 million Pakistani students were studying in different disciplines and programs in Chinese universities, and the number was continually rising.
IIRMR Chairman Muhamamd Mehdi, a senior foreign affairs expert, and IIRMR President Yasir Habib Khan, a senior journalist, stressed the importance of friendly ties between Pakistan and China for the mutual benefit of the two countries and called for exploration of maximum possible venues for cooperation.
They announced the institute had plans to launch various media-centric researches and reports on international relations, media courses, multi-platform media organizations with a print magazine, a website, a mobile-friendly website, multiple apps, and social media outlets to increase the reach and impact of its research work.
The advisory body of IIRMR includes Sohial Warriach from Jang/Geo, Shahzada Irfan Ahmed from The News, Zulqarnain Tahir from Dawn, Javed Farooqi from GNN, Raees Ansari from Geo TV Lahore, Azmat Rasool from Florida University, Yang Huan from China Radio International, Greogry Heller from France, Jose Manual Marquitos from Portugal, Digby Wren from Australia, Sarmad Iqbal from The Nation, Ghulam Hussain Awan from 92 TV (UK) and Rao Dilshad Hussain from City 42.
IIRMR Chairman Muhammad Mehdi said that as the sky was the limit for improvement, there were a lot of areas of cooperation that could be explored to take Pak-China relations and CPEC to new heights against all the odds. He endorsed the statement of the former Deputy Chief of Mission (DCM) of China in Pakistan and currently the deputy director-general, information department, Ministry of Foreign Affairs China, Lijian Zhao for hailing the verdict of the Lahore High Court (LHC) to permit former prime minister Nawaz Sharif to travel abroad for treatment. He also demanded Panda Diplomacy as observed by China globally by donating Pandas for Lahore Zoo to win the hearts of people.
Punjab University Pro VC Azhar Saleem, PU head of History Department Dr. Iqbal Chawala, Prof.Amjad Abass Magsi, Ex-Supreme Court Judge Justice Faqir Muhammad Khokhar, ex-diplomat Javed Nawaz, senior analyst Altaf Hassan Qureshi, senior columnist Rauf Tahir and Zafar Mehdi of East-West Institute were also present.