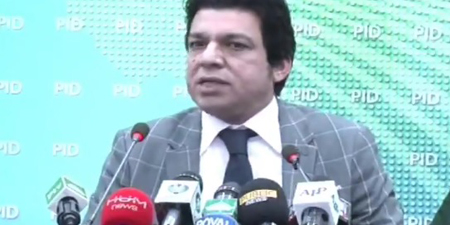 JournalismPakistan.com January 02, 2019


ISLAMABAD - Journalists took to Twitter to condemn the Minister for Water Resources Faisal Vawda over his harsh response to a question by senior Dawn reporter Khaleeq Kiani, during a press conference.
According to Dawn.com Kiani reminded the minister how his party had criticized an LNG deal during the PML-N government on the basis that it was awarded on a single-bid basis.
"Your party had strongly criticized the LNG deal because it was done on the single-bid basis, and now your government has awarded the contract of Mohmand Dam on a single-bid basis. How can you say it is legitimate?"
The minister responded: "I could have expected such a question from Dawn only. I am not responsible for something that happened before my birth."
Although he immediately apologized for his comment, reporters went ahead and boycotted his presser.
Baqir Sajjad, a colleague of Kiani, thought the power had gone to the head of the PTI ministers. "We could have only expected such an arrogant response from Pakistani Trump's cabinet minister. Power has gone to their head."
Zarrar Khuhro, one of the anchors of talk show Zara Hut Kay, was thankful that the minister did not pull out a gun, referring to his appearance with gun and vest in Karachi when terrorists attacked the Chinese Consulate. "Shukar karain he didn't pull out a gun from his back pocket."
In a tweet, Dawn.com maintained: "The reporters at the press conference objected to Vawda's choice of words and staged a walkout in solidarity with Dawn's senior reporter Khaleeq Kiani, who had asked the question."
Dunya News termed the minister's attitude "sullen". "Indiscipline during #FaisalVawda's press conference, journalists protest on his sullen attitude."
Omair Alvi, a columnist, said: "Faisal What Da finally realizes that there is a huge difference while talking to likable bloggers and experienced journalists. Likable bloggers love his Rambo attitude while experienced journos are Rambos in their own way. #FaisalVawda."