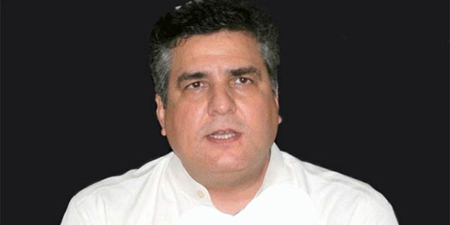 JournalismPakistan.com May 24, 2017


ISLAMABAD – A senior scribe upset over PML-N leader Daniyal Aziz's remarks attributed to journalists Wednesday forced him to apologize.
Journalist Mazhar Iqbal stood up during a news conference at the Press Information Department (PID) and asked Aziz (pictured) to apologize for calling PTI leader Imran Khan as being a son-in-law of journalists.
"The way Imran Khan is getting coverage, it seems he is a son-in-law of journalists," Aziz had said a few days ago.
The journalist called on Aziz to apologize on air for his remarks. "If you don't we would continue to raise the issue wherever you go."
At the press conference Wednesday, Aziz was flanked by State Minister for Capital Administration and Development (CAD) Dr. Tariq Fazal Chaudhry.
Continuing his verbal attack, Iqbal told Aziz his government could slap a ban on newspapers and clamp down on social media, but it could not shut down their mouths.
Later, Aziz attempted to explain what he had meant and apologized. "If you think I uttered any wrong words that have caused hurt, I apologize for that in writing."
Image courtesy: prideofpakistan.com