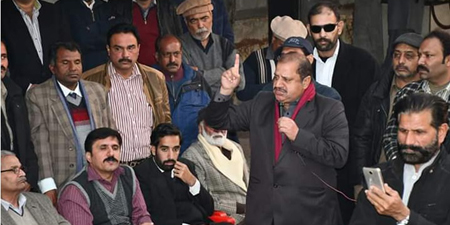 JournalismPakistan.com December 23, 2018


RAWALPINDI – The crisis gripping the Pakistani media is the result of a collaborative conspiracy, a journalist union leader said on Saturday.
Afzal Butt, President of Pakistan Federal Union of Journalists (PFUJ), was speaking at a protest camp outside the Jang offices in Rawalpindi.
The Rawalpindi-Islamabad Union of Journalists (RIUJ) organized the protest to press for reinstatement of more than 600 employees laid-off by Jang Group.
Butt pointed out that such massive job cuts meant an economic murder of 600 families. He assured the protesters that PFUJ would go to any extent to have the workers reinstated.
He said he had suggested that All Pakistan Newspapers Society (APNS) and Council of Pakistan Newspaper Editors (CPNE) wage a struggle along with PFUJ, but he got no positive response.
He urged the journalists to stand united against the owners whose only interest was to make personal profits and to increase assets.
Mubarak Zeb Khan, President of RIUJ, expressed concern over the massive layoffs. After the unannounced censorship, attempts to gag the press posed a danger to democracy and was an attempt to create anarchy, he said.
He told the protesters that RIUJ would not only stand by them in this challenging hour but also provide them legal assistance if so needed.
Khan said that terminating staff on the pretext of not getting advertisements from the government was a lie. The fact is that news organizations are regularly getting ads from the government and private businesses.
Shakeel Anjum, General-Secretary of National Press Club said the protests would continue until the reinstatement of all workers.