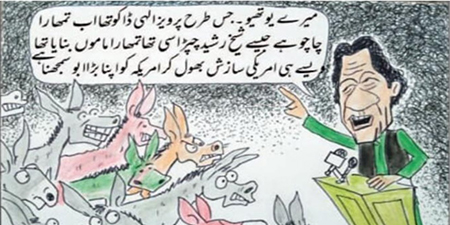 JournalismPakistan.com November 17, 2022


ISLAMABAD—Daily Jang on Thursday expressed a half-hearted regret for publishing a cartoon seen as offensive by readers, portraying the supporters of Pakistan Tehreek-e-Insaf as donkeys.
The cartoon, published on the newspaper's front page, also showed the party Chairman Imran Khan, using the pejorative term 'youthia' for PTI supporters.
In its regret note, the paper said it had received objections to the cartoon's publication. However, it added that some liked it and others didn't. The paper said the editorial committee reviewed the cartoon and found that one portion should not have been published, pointing to where PTI supporters have been shown as donkeys.
The paper said the editorial committee had expressed regrets and that publishing the cartoon should not be considered a part of the editorial policy.