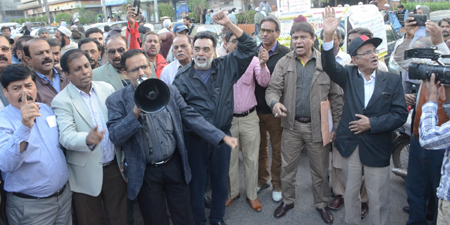 JournalismPakistan.com December 18, 2018


Pakistan's largest publication house, the Jang Group of Newspapers, shut down five newspapers in various cities rendering hundreds of journalists and media workers jobless on December 16, 2018.
The International Federation of Journalists (IFJ) joins the Pakistan Federal Union of Journalists (PFUJ) in condemning the abrupt closure of the newspapers and urges the media house to reconsider its decision and reinstate the media workers.
The Jang Group announced the closure of Peshawar and Faisalabad editions of Jang daily and shut down its Karachi-based Urdu-language daily Awam and English-language Daily News along with Lahore-based Urdu daily Inqibal without prior notice to the employees.
The PFUJ also noted that Century Publications' Urdu daily Express had closed its bureaus in Sukkur, Quetta, Gujranwala, and Multan while the Herald Group of Publication shut down Herald monthly. The PFUJ estimated the total job loss in all these closures to be around 2,500.
PFUJ President GM Jamali said: "The PFUJ is profoundly distressed over en masse dismissal of journalists and media workers and urges Prime Minister Imran Khan, Information Minister Fawad Chaudhry, and Sindh Government to take notice of the move by media houses…I urge the concerned authorities to terminate the declarations of all such newspapers that have been closed down to discourage dummy publication and/or later launch with a different approach."
The PFUJ and its affiliate units staged countrywide protests and criticized the federal and the provincial governments for their silence and failure to act to resolve the problems of the media industry.
Meanwhile, on December 14 Information Minister Hussain avoided informing the Parliament about the number of employees dismissed from service by private TV channels and newspapers since January 1, 2018. Answering a query, he in a written reply said no authentic figure or data was available with the ministry to ascertain the number of employees sacked by print media houses.
The IFJ said: "The IFJ is extremely concerned by the decision to close down newspapers by the Jang Group and other publication houses in Pakistan. The closure and layoff of hundreds of journalists and media workers is an extreme step that should only be taken after proper auditing and consultations with stakeholders including the journalists' unions. The publication houses' abrupt decision without announcing gratuity or retirement plans of the journalists and media workers is unacceptable and against the labor rights of them. The IFJ urges the media houses to reconsider their decisions, and to ensure that the laid-off media workers are properly compensated." – IFJ media release/Photo: PFUJ