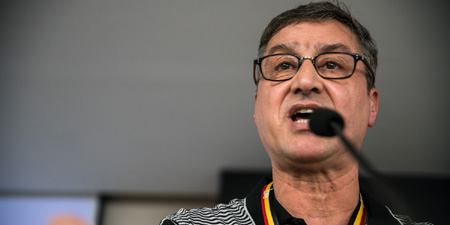 JournalismPakistan.com June 13, 2019


BRUSSELS — On Thursday 254 IFJ delegates convening in Tunis for their World Congress elected Younes M'Jahed of Morocco as their new president.
Younes M'Jahed is a journalist at Ittihad Ichtirak. He first joined the IFJ executive committee as an advisor at its Recife Congress in 1998. He was further elected as vice president in IFJ Congress in Moscow in 2007, and then as senior vice -president at IFJ Congress in Dublin in June 2013 and subsequently re-elected in Angers in 2016.
He also serves as general secretary of the Syndicat National de la Presse Marocaine (SNPM ) and was recently elected as president of the National Press Council in Morocco.
Younes M'Jahed is taking over from outgoing Belgian President Philippe Leruth, who headed the IFJ from 2016 to 2019.
M'Jahed said: "I will work on consolidating trade unionism and trade unions 'action, diversify our cooperation and continue what we initiated 6 years ago: encourage our own bodies as well as regional groups to be more active to enhance democracy in our own bodies."
IFJ delegates elected Peruvian Zuliana Lainez as senior vice president, Indian Sabina Inderjit, and Russian Timur Shafir as vice presidents and British Jim Boumelha as honorary treasurer. — IFJ media release