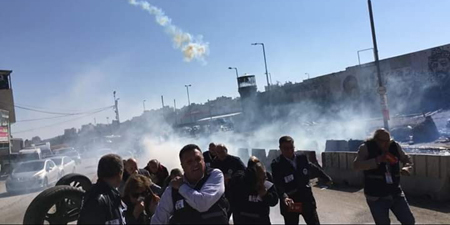 JournalismPakistan.com November 17, 2018


BRUSSELS – International Federation of Journalists' leaders came under a tear gas attack on Saturday after Israeli soldiers fired on a peaceful assembly demanding the right to freedom of movement for Palestinian journalists.
One member of the IFJ's Executive Committee was injured after being hit on the shoulder and many others were left choking after the attack.
In an open letter to the Israeli Prime Minister, the IFJ - whose Executive Committee is meeting in Ramallah - has demanded an urgent response to the unprovoked attack on the peaceful demonstration in support of the rights of Palestinian journalists.
In the letter, copied to the United Nations and Unesco, the IFJ leadership said: "After having held a brief press conference the IFJ's global leadership and a number of Palestinian journalists walked peacefully a few hundred meters along the main road towards the Qalandia checkpoint.
"At about 100 meters from this important entry point to Jerusalem the Israeli army, with no warning and no discussion, fired around 10 tear gas grenades towards the group, injuring one of the members of the IFJ's Executive Committee on the shoulder and causing many others to choke.
"In a peaceful manner and still well within the Palestinian Territiories the IFJ delegation turned and retraced their steps along the road in a bid to escape the Israeli gas attack.
"The IFJ urgently demands a response from the Israeli Prime Minister to this unprovoked physical assault and to these violations of freedom of expression and freedom of movement. No democratic state worthy of the name can react in this way."
The IFJ also called on the Israeli authorities to recognize the International Press Card which is recognized by 145 governments worldwide - but not in Israel. – IFJ media release