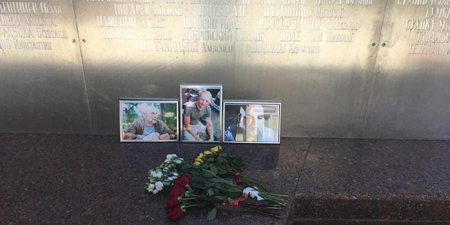 JournalismPakistan.com August 02, 2018


BRUSSELS - The International Federation of Journalists (IFJ) has strongly condemned the murder of three Russian journalists in the Central African Republic, in what local authorities said was an ambush by an unidentified group of armed men.
In response to the killings, which happened on 30 July, the IFJ also demanded that the Central African authorities carry out a thorough investigation to bring the material and intellectual perpetrators of this crime to justice.
Kirill Radchenko, Alexander Rastorguyev, and Orkhan Dzhemal, who worked for Russian online news organization Investigation Control Center (TsUR), were assaulted by an unidentified group of armed men in an area near the village of Sibuti at around 10:00 pm, local authorities confirmed. The three reporters were slain on the spot while their driver survived the attack.
Media reported that: "According to the driver's explanations when they were 23km from Sibut, armed men emerged from the bush and opened fire on the vehicle. The three journalists died instantly".
According to TsUR, the three journalists arrived in the country on Friday and were working on a documentary about the activities of the Wagner Group, a paramilitary mercenary company. According to Reuters' sources, this group has ties with Kremlin and carried out clandestine combat missions on its behalf in eastern Ukraine and Syria. Russian authorities deny this accusation.
However, there is no evidence yet that the killings were motivated by this documentary project and the assailants have not been identified. Local law enforcement is cooperating now with the Russian embassy in the country to find out what happened. The IFJ will monitor closely the investigation to make sure that material and intellectual perpetrators of this crime are brought to justice and to put an end to journalist killings' impunity.
IFJ President Philippe Leruth said: "The assassination of three Russian journalists in the Central African Republic is a tragedy, and the IFJ wants, first of all, to present its condolences to their relatives in Russia. The IFJ urges the Central African authorities to search, find and bring the journalists' murderers to court, as nine journalists' murders on ten remain unpunished in the world. This scandal must end." - IFJ media release