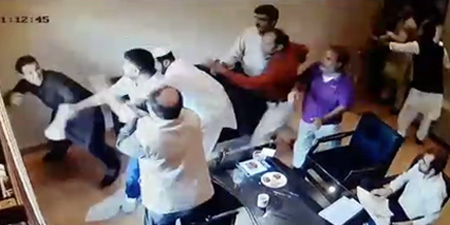 JournalismPakistan.com September 29, 2019


ISLAMABAD — Irfan Malik, a deputy bureau chief of 24 News, escaped an attempt on his life on Sunday at Media Town.
Malik, who is also the finance secretary of the town, told JournalismPakistan.com that men in a vehicle chased him as he left the office and headed home in his car.
"When I arrived outside my residence, there was another car parked there. I went in, came back, hopped into my car, and headed back to the Media Town office."
The attackers intercepted Malik's car a short distance from his home, but he somehow managed to flee and arrived at the Media Town office.
"One of the assailants told his accomplice to shoot me," Malik said.
Shortly after he arrived in the office, about eight assailants barged in and kicked and punched him for several minutes, CCTV footage showed.
The Annual General Meeting of Media Town was scheduled for Sunday and took place as planned.
Malik has filed an application seeking registration of FIR at the Loi Bhir Police Station.
The journalists were holding a meeting at the National Press Club later on Sunday evening to discuss the incident and to devise a course of action.