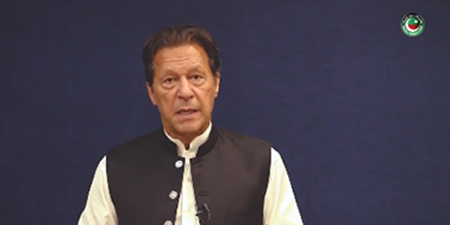 JournalismPakistan.com April 30, 2022


ISLAMABAD—Dawn newspaper on Friday dared former Prime Minister Imran Khan to come out with evidence regarding his allegation that foreign powers have bought journalists' loyalties.
In an editorial, 'Imran Khan & the media,' the newspaper maintained that ever since Mr. Khan came out of the Prime Minister's House, he accused the media of receiving foreign funding and conspiring to topple his government while "standing with the dacoits."
The paper pointed out that the former prime minister only tolerates "a pliant, unquestioning press that acts in service of his agenda."
Dawn reminded Imran Khan about his strong-arm tactics against the media during his three-and-a-half-year tenure. "The government contemplated bringing in a regulatory law so draconian that a military dictator would have flaunted it with pride. The proposed legislation was put on the back-burner only when the media and civil society erupted in anger, but the government nevertheless moved ahead on another front — to control cyberspace."
The newspaper called on the former premier to end "gaslighting." It added that disinformation is condemnable from wherever it emanates.
You may also like to read:
Dawn urges PM to address curbs on media
Minister accuses Dawn of being part of conspiracy against Pakistan