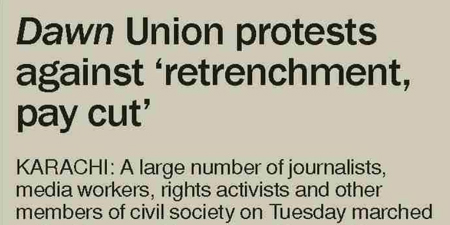 JournalismPakistan.com December 02, 2020


ISLAMABAD—Dawn newspaper on Wednesday published a story regarding a protest by its employees against its policy of retrenchment and pay cuts.
The Dawn union held the protest in Karachi on Tuesday. The journalists warned the newspaper management against any further layoffs and cuts in salaries and benefits. They also asked the government to protect journalists' economic rights.
Earlier, the employees held a similar protest outside the Dawn Islamabad office.
Under the headline "Dawn Union protests against retrenchment, pay cut," the news story said: "the participants chanted slogans against censorship by state institutions and huge pay cuts and unjustified layoffs of media workers in the name of so-called business management and cost-cutting measures."
At the end of the protest, the protesters presented a memorandum to an official of the governor's house, asking the government to notice the newspaper owners' refusal to implement the eighth wage board award.