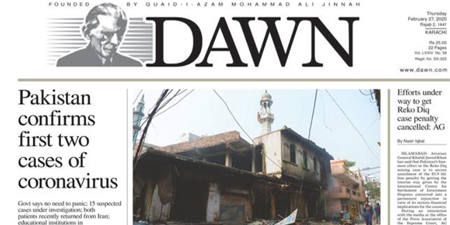 JournalismPakistan.com February 27, 2020


ISLAMABAD—Dawn is not pleased with the way the PTI government is planning to bring a bill on the protection of journalist.
The paper wants the government to adopt the bill on the protection of journalists, prepared by the ministry of human rights, and not club it with the proposed legislation presented by the Ministry of Information. "Such a conflation, one may be sure, is likely to culminate in a watered-down piece of legislation," the paper said in an editorial titled 'Media Protection Bill', on Thursday.
The paper said the bill by the human rights ministry ensures "journalists' safety on their fundamental and inalienable rights as citizens, rather than being an 'indulgence' that can be withdrawn at will." Most importantly, the bill "unflinchingly lays out the real problems that journalists in Pakistan face, and addresses the critical issue of impunity by setting up a seven-member commission — led by a former Supreme Court judge — with wide-ranging powers of investigation and redressal."
According to the bill, the statutory body would be duty-bound to investigate and prosecute within 14 days all forms of harassment, coercion, and violence against media professionals—including forced or involuntary disappearances, kidnapping, abduction, etc.
Dawn backed the bill on not using national security laws to detain journalists or hinder their work.
The editorial reminded the government that the media in Pakistan was facing multiple crises. "The media in Pakistan is reeling under unprecedented pressure. Various quarters including political actors, security agencies, etc., seek to censor information they perceive as damaging to them — and they will go to any length to achieve their objective."