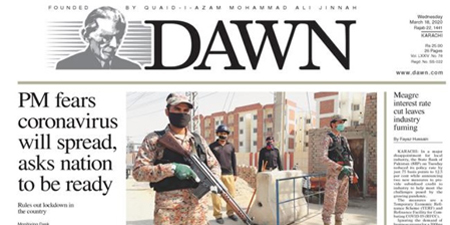 JournalismPakistan.com March 18, 2020


ISLAMABAD—Daily Dawn has been left red-faced after it mixed up identities of a former Senator from Balochistan and an inmate serving sentence in Guantanamo Bay since 2004.
Nazli Rafat Jamali, daughter of former Senator Mian Saifullah Khan Paracha, was livid with the newspaper for the mix-up. In a letter to the editor on Wednesday, she said she would not have "expected Dawn to let such an error go undetected."
On March 9, Dawn published an article by Saifullah Paracha, who has been incarcerated at Guantanamo Bay since 2004—the oldest prisoner at the detention camp, where he has been held without charge. Before that, he had been kept at Bagram Air Force Base in Afghanistan for more than a year.
However, a letter by Dr. Ashiq Hussain Cheema on March 14, commenting on the incarceration and misery of Saifullah, took him for the 88-year old former Senator Saifullah.
Interestingly, the letter extolled the services of senator for Balochistan. "The senator was always concerned for the development of Balochistan. As a senator he would ask the federal government to launch schemes for the improvement, processing, and packaging of fruits and the introduction of freshwater fish varieties (carps) and dairy goats in the province. My colleagues at Pakistan Agricultural Research Council and myself visited Balochistan several times in his regard." As the US and Taliban have reached an agreement, Dr. Ashiq demanded that the senator may be released along with Dr. Aafia Siddqui.
Ms Jamali gave a complete background of her father. "My father, former Senator Mian Saifullah Khan Paracha, lives a retired life in his home in Quetta at 14-A Zarghoon Road. He holds a degree in engineering from Berkeley and was a contemporary of Zulfiqar Ali Bhutto at the university. He was elected to the Senate from Balochistan twice; served as a provincial minister under two governments."
Currently, according to the letter, the former senator "runs a free diagnostic lab in Quetta" and is "a patron of the Islamic School orphanage and serves on the board of Lady Dufferin Hospital."
Ms. Jamali is at a loss "how anyone would confuse him with Saifullah Paracha, the alleged Al-Qaeda operative who was caught in money laundering and is still serving his sentence in Guantanamo Bay."
Apart from publishing the letter, Dawn said it "regrets the mix-up."
It is not the first time Dawn has mixed identities. In the past, the paper mixed up the ruling Pakistan Tehreek-e-Insaf (PTI) with the banned terrorist outfit Tehreek-e-Taliban Pakistan (TTP).