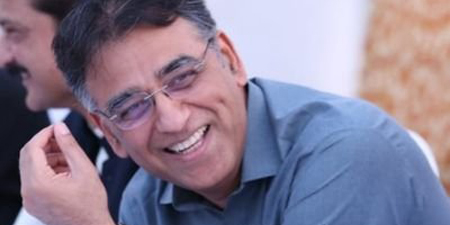 JournalismPakistan.com September 10, 2020


ISLAMABAD—Minister for Planning, Development, Reforms, and Special Initiatives, Asad Umar is angry with Dawn newspaper.
The reason is a headline on the paper's front page on Thursday—'Minister admits Rs750bn of Karachi plan belongs to Karachi.'
In a tweet, he said: "Seriously @dawn_com??? This is shameless journalism. Even after being pointed out that what you had said was false, you go and make it a headline on the front page. Sad to see the demise of a respected paper. "
Soon after Prime Minister Imran Khan announced an Rs1.1 trillion development package for Karachi, both the ruling Pakistan Tehreek-e-Insaf and Pakistan Peoples Party leaders have been at loggerheads over their monetary contribution to the package.
Khaleeq Kiani, who filed the story, posted a video of the minister in which he is saying he admits Rs750 billion belong to Sindh but insists it is time to start the work and keep politics on the side.
Kiani, a critic of the PTI government, tweeted: "I can't use ministerial lingo but this is what a minister actually said."
In another tweet, he asked the minister to "THINK BEFORE YOU SPEAK."
Abbas Nasir, a former editor of Dawn, suggested in a tweet that the newspaper should consult the minister for making headlines. "Dawn, other media, pls consult Mr Asad Umar before you write your headlines. Norm in Naya. Strange to see a hybrid regime leading light calling someone else shameless."
Photo: Twitter (@Asad_Umar)