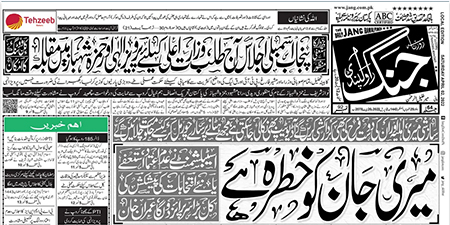 JournalismPakistan.com April 02, 2022


ISLAMABAD—Pakistan's leading Urdu newspaper Daily Jang, on its 75th anniversary, published a special edition to mark celebrations with the theme "Jang ka Pakistan Pakistan ka Jang."
According to The News, the slogan depicts the vision and passion of its founder Mir Khalil ur Rehman, who came to this country along with his newspaper, Jang where he, like others, wanted to realize his dreams. Jang, an iconic name in the history of Urdu journalism in the subcontinent, lived up to its meaning, the "War."
The flagship product Jang was born before the birth of Pakistan. It created history as it became the voice of lakhs of struggling Muslims who wanted to get freedom from the British and Hindu Raj and achieve a country where they could live freely.
After Pakistan's creation, Jang started a new journey from the newly established state and kept on writing history.