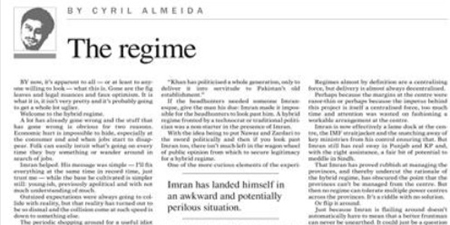 JournalismPakistan.com September 16, 2019


ISLAMABAD — Cyril Almeida has made a comeback to the editorial pages of Dawn, after almost eight months.
His article – The regime — as usual harshly criticized the establishment and the government of Prime Minister Imran Khan.
Not a big fan of the prime minister, Almedia maintained: "Imran has landed himself in an awkward and potentially perilous situation."
In January this year, Almedia announced he would not be contributing to the editorial pages every Sunday.
Earlier, was involved in controversies which led to court cases against him. In October 2016, his story on the meeting of National Security Committee caused an uproar. Although the then PMLN government rejected the story, his name was briefly put on the exit control list.
In May 2018, Almedia's interview of Nawaz Sharif led to a treason case against him and Zaffar Abbas, editor of Dawn. Sharif maintained that the militant organizations were active in Pakistan and asked if "should we allow them to cross the border and kill 150 people in Mumbai? Explain it to me. Why can't we complete the trial?"
In April 2019, he got the International Press Institute's 2019 World Press Freedom Hero award.
Veteran journalist Tariq Butt was happy to see Cyril back. "Cyril Almeida is back. In these tricky times, a memorable Mohammed Hanif phrase must suffice by way of elaboration: "[Imran] Khan has politicised a whole generation, only to deliver it into servitude to Pakistan's old establishment."
Columnist Umair Javed also patted Cyril on the back. "Feels like Sunday again. Welcome back, @cyalm."
ARY News presenter Arshad Sharif also quoted lines from the article in welcoming back Cyril. "Just because Imran is flailing around doesn't automatically have to mean that a better frontman can never be unearthed. It could just be a question of more skilfully looking in the right place at the right time. Welcome back @cyalm."