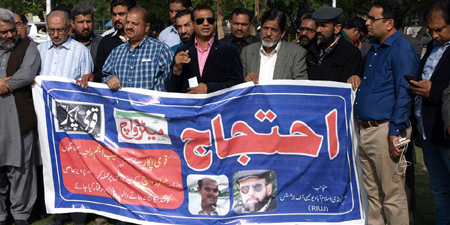 JournalismPakistan.com March 15, 2018


ISLAMABAD – Afzal Butt, President Pakistan Federal Union of Journalists (PFUJ), warned of protest in front of the City Police Officer's office if those who attacked the bureau office of Daily Metro Watch in Rawalpindi were not arrested.
Addressing a protest held in front of the National Press Club Thursday, he said the just like the killers of journalist Muneer Anjum Raja had been arrested, he expects that the perpetrators in the latest incident are also brought to book.
Last week, at least three men barged into the paper's bureau and beat up a reporter and damaged furniture. The attackers were upset over a story filed by the journalist.
Some other leaders including Bilal Dar, Asghar Chaudhary, and Imran Yaqub, and Sardar Shaukat Mahmood, also made speeches.
The Rawalpindi-Islamabad Union of Journalists (RIUJ) organized the protest.
Photo courtesy: Javed A. Malik