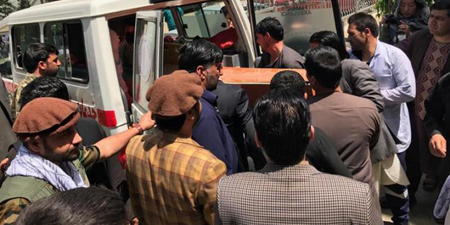 JournalismPakistan.com May 03, 2018


Journalists in Afghanistan face threats, intimidation and violence for simply doing their jobs, Amnesty International said on World Press Freedom Day as it honored the memory of the ten Afghan journalists killed in horrific attacks this week.
Against the backdrop of unrelenting violence, a double bombing in Kabul and a shooting in Khost on Monday marked the deadliest day for journalists since the conflict in Afghanistan began in 2001. The Kabul bombings killed 29 people and wounded 45 others.
"Afghanistan's journalists are among the bravest in the world. Working in some of the most difficult conditions, they have faced threats, intimidation and violence for simply doing their jobs. At a time when many have sadly turned their attentions away from the country, and the work of a journalist means constantly putting your life at risk, they have continued to confront injustice and give voice to victims," said Omar Waraich, Amnesty International's Deputy Director for South Asia.
Nine of the journalists killed had rushed to the site of bombing in Kabul during rush hour. A second bomber, posing as a journalist and presenting a fake press card, worked his way towards a crowd of journalists before detonating his device. The survivors put down their cameras and their equipment to help the victims around them.
"The second attacker deliberately sought out journalists to kill after the first bomber had drawn them to the scene. Mere moments after killing one group of civilians they targeted another, committing multiple war crimes on the same spot," said Omar Waraich.
Afghanistan's journalists had barely registered the Kabul tragedy that robbed them of some of their finest colleagues when news came that Ahmad Shah, a reporter for BBC Afghan, had been shot dead in Khost province, near the border with Pakistan.
According to the Afghanistan Journalists Safety Committee, at least 80 media workers have lost their lives while working in the country since 2001. - Amnesty International/Photo: EPA-EFE