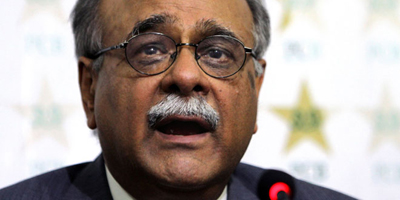 JournalismPakistan.com June 01, 2015
ISLAMABAD: Najam Sethi, senior anchorperson and journalist, has withdrawn his candidature for the International Cricket Council presidency, making way for a former Pakistan Test cricketer to take the ceremonial position.

"I have decided to step aside from ICC Presidency. I request PCB to nominate a great ex-Test cricketer for this position in spirit of game," he tweeted Monday.

"After the success of #CricketComesHome and in the spirit of revival, it is time to honour a cricketing GREAT from Pak as next ICC Prez ," Sethi tweeted.

Sethi is a former chairman of PCB and was nominated for the position. He is currently head of PCB's executive committee and made the decision after the ICC in its previous board meeting advised its member to nominate former cricketers for the largely ceremonial post of presidency from 2016.

"I am writing to thank you and the other members of the ICC for nominating me as ICC President for 2015-16. It is a great honour that I shall always cherish," Sethi wrote to the ICC.

The ICC was to consider Sethi's appointment later this month at a board meeting in Barbados.