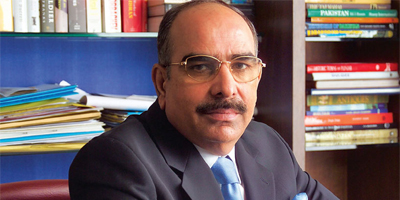 JournalismPakistan.com April 18, 2016


ISLAMABAD: Property tycoon Malik Riaz Monday reacted angrily to a story on Dawn.com alleging graft and land grab in the construction of Bahria Town Karachi.

In a series of angry tweets on Monday morning, Malik Riaz re-posted a Jan 31 tweet in which he had claimed that DawnNews TV asked for ads worth Rs8 crores annually – a demand which was turned down.
In three tweets on January 31 this year, Malik Riaz said he was appalled by "perpetual propaganda" against Bahria Town on DawnNews TV. He claimed that he would expose "black sheeps of Pakistani media". In yet another tweet he had said DawnNews "lost all credibility" and vowed not bow before "blackmailing".

The story Bharia Town Karachi: Greed Unlimited on Dawn.com Monday maintained that "authorities and Bahria Town (Pvt) Ltd colluded in violating multiple laws to facilitate a massive land grab." It also alleged forced eviction of villagers. The story by Fahim Zaman and Naziha Syed Ali maintained there was no response by Bahria to questions put to it by Dawn about Bahria Town Karachi or to the subsequent reminder.

Instead of directly responding to the latest story, the Bahria Town owner also focused on a Dawn story on March 31 which reported that Riaz's son was booked in a murder case. Threatening legal action, his tweet on Monday said the "reputable" @dawn_com committed contempt of court &we're all set to raise ths on legal forum, rest assure."

The property tycoon railed against Dawn, accusing them of "contemptible reporting" and "consistently making false accusations to blackmail us to bow down to their yellow journalism…".

A few weeks back in an interview with Reuters Riaz had announced plans to come up with not one but many TV channels to "protect himself from those who accuse him of wrongdoing."
Related post from JournalismPakistan.com Archives:
Property tycoon Malik Riaz eyes media move to protect his name