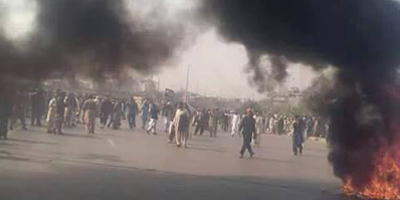 JournalismPakistan.com February 29, 2016


ISLAMABAD - The national electronic media's tendency of surprising all and sundry by completely ignoring the big story at times was much in evidence Monday.
As protests broke out across the country following the hanging of Mumtaz Qadri, the man who killed Punjab Governor Salman Taseer, there was almost a complete blackout of events.
This left the general public confused on the first day of the new week with many people getting stuck in traffic jams or getting caught up in mobs.
In Islamabad and Rawalpindi, pro-Qadri protesters blocked the main expressway leaving thousands of office-goers, students and others stranded.
With a blackout of protests, people remained clueless as to what was going on till late into the day.
Television anchor Sami Abraham said the media had ignored the story 'mercilessly'. "The roads are blocked, the metro bus service is suspended and there are protests but the national media have not reported on what hardship the people have had to face."
In a video commentary posted on Facebook he said, the media's job was to report. "They should have been reporting on government's conduct on a day like this and the miseries of the people," he said.
"This is a big story for it is linked directly with people's lives. The government's writ cannot be seen and media is staying mum."