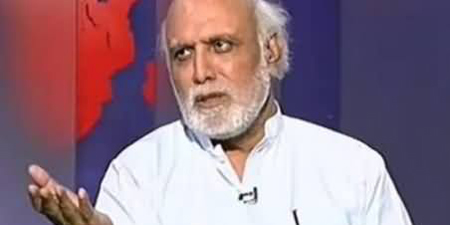 JournalismPakistan.com May 11, 2017


ISLAMABAD - In a hard-hitting column in Dunya newspaper in the background of the settlement over Dawn Leaks, columnist Haroon Rashid Monday railed against media allegedly for promoting Indian narrative and propagating against the military. At the same time, he also warned All Pakistan Newspapers Society (APNS) against saving the "newspaper".
Though Rashid termed the patch-up over the leaks a step in the right direction, he termed it a temporary ceasefire. "The issue of the newspaper is still outstanding. Sword rattling newspaper organizations are standing behind it. This is a cruel behavior. This newspaper continuously sees Pakistan through the perspective of West, instead of seeing India and West through Pakistan's perspective," the column maintains. Rashid said other media groups were also involved in this practice.
He then turned his attention to secret funds with the information ministry, saying when Qamar Zaman Kaira was the information minister during the PPP government, the ministry was given Rs2 billion for spending on media. "When journalists asked how I can say this with confidence, I would say this is in the budget documents."
Rashid claims that he came to know the names of journalists by chance, who were given huge sums of money, his source being a deputy secretary (late) of the information ministry.
He alleges that nowadays there are journalists who receive payments in Kabul, Dubai, London, and Washington. "This list can be found out. Their properties in Dubai, London and Washington can also be found out." He alleged that one such journalist has been found out. "He has properties in London and Washington. He is a defaulter of Rs12 million. As long as there is the government of Mian Sb, no one can do anything against him."
He also claimed that currently the case of India is being fought openly in Pakistan. "In English newspapers, representatives of NGOs are writing against Pakistan Army. When you object, they turn against you and abuse you."
In the end, Rashid warns APNS: "If through injustice APNS tried to save the newspaper (Dawn), one day it will have to pay the price."