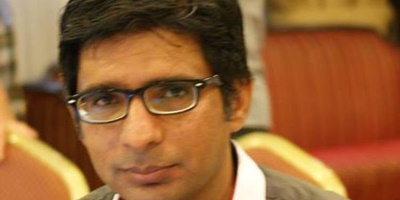 JournalismPakistan.com August 03, 2015
ISLAMABAD: Investigative journalist Aoun Sahi has quit The News on Sunday and joined Channel 24 as their Islamabad Bureau Chief.

He brings with him over 12 years of experience in print media and investigative journalism.

"I'll try my best to utilize my print media experience for value addition to television news," he told JournalismPakistan.com.

Sahi plans to designate special reporters at the Islamabad office to do investigative stories on education, health and climate change. "As a team, we will cover under-reported stories in the social sector and try to create a niche," he said.

Sahi is a versatile journalist and has been writing for around a dozen international news organizations on different topics ranging from social issues to environment and climate change, besides teaching journalism at Punjab University for some time.

He started his career in 2003 as a freelance journalist for The News on Sunday and was hired by TNS in 2006 as a special correspondent. He also worked for Business Plus TV from 2004 to 2005.

In 2006, he also started contributing stories to Inter Press Service, an international news agency, on social and humanitarian issues.

"I started working for western media in 2007 and since then I've worked with many internationally acclaimed journalists like Kim Barker," he said.

He had been a regular contributor for the Washington Post, Los Angeles Times, Wall Street Journal, Sunday Times, The Australian and Telegraph from 2007 to 2010, besides working as a stringer for AFP from 2009-10.

From 2008-11, he worked as an associate producer and head of research team for an American film company that produced a documentary, "Without Shepherds."

He was selected Daniel Pearl/Alfred Friendly Press Partners fellow in 2010 and later became a special correspondent for Times UK and Los Angeles Times.

Sahi is also a renowned researcher and media trainer, and has won International Labour Organization's successive journalism awards in 2014 and 2015.