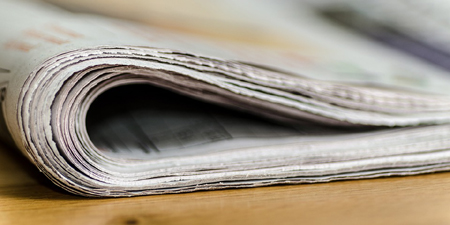 JournalismPakistan.com October 16, 2020


ISLAMABAD— According to a report by Gilani Research Foundation, only 5% of the editorials in the 12 mainstream Urdu and English newspapers were on health issues in August 2020.
The report analyzed 2,140 opinion articles/columns for August 2020. It was part of Gallup & Gilani Pakistan Media Research Division's initiative to understand opinion leaders' views on national issues empirically.
The 12 newspapers selected for the review are Pakistan, Express, Jang, Khabrain and Nawa-i-Waqt (Urdu), and The Express Tribune, Daily Times, Dawn, Pakistan Today, The Pakistan Observer, The Nation, and The News (English).
The topics discussed in these opinion articles/columns were categorized into 14 broad themes: politics, security, media, law, economy, governance, international, social, sports, health, education, religion, crime/terrorism, and miscellaneous.
As Pakistan witnessed a decrease in the number of COVID-19 cases, the report maintained that only 5% of editorials on health issues show "growing fatigue with health concerns."
The report said 8% of the articles each were devoted to international issues, followed by social at 16% and governance at 15%. Politics occupied 13% of space, while the economy made up 8% of the total share. Miscellaneous issues occupied 7% of newspaper space, followed by health and religion at 5% each. News related to media, security, education, law, crime/ terrorism, and sport occupied the remaining 13% of the space.
The discussion on health has decreased substantially since March 2020, the beginning of the pandemic in Pakistan. Health has been one of the least discussed categories among the op-eds. Its share in February 2020 was 5% when discussions related to the re-emergence of polio cases in Pakistan and the COVID-19 had begun. Since then, the percentage of share rose to 23% in March 2020. However, in successive months, discussions on health issues have dwindled as international and social issues gained more attention.