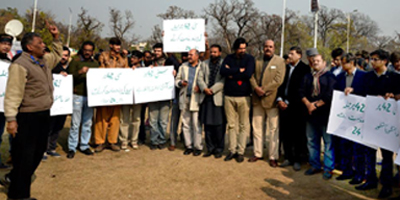 JournalismPakistan.com February 08, 2016


ISLAMABAD - A day after shots were fired at the Lahore office of City 42 Television, journalist unions got together to protest the attack.
The Pakistan Federal Union of Journalists (PFUJ), National Press Club and Rawalpindi-Islamabad Union of Journalists organized a protest in Islamabad Monday.
Union leaders and others condemned the attack and called upon the government to move quickly and provide security to news organizations.
Senior journalist Farooq Faisal said although providing security to media houses was not originally part of the National Action Plan, it were the efforts of journalists unions that convinced the government to incorporate it in the plan.
PFUJ President Afzal Butt pointed out that ensuring security was actually the job of the media outlets but considering the prevailing situation, it had become imperative the government steps in.
Protests were also held in Lahore and Karachi where too union leaders condemned the attack and urged the government to stop dilly-dallying and act.
Meanwhile, law enforcement agencies have not been able to trace the gunmen who fired the shots. City 42 staffers say the incident in which no one was hurt, took place right under the nose of the police deputed at the police station next to the channel's office.
Image courtesy: National Press Club
Relevant post: Shots fired at City 42 office