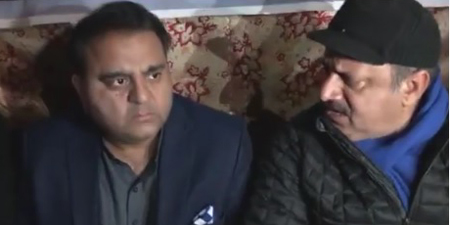 JournalismPakistan.com February 04, 2019


ISLAMABAD – Federal Information Minister Fawad Chaudhry (pictured, left) on Monday visited a journalists' protest camp outside the offices of Daily Express.
Afzal Butt (pictured, right), President of the Pakistan Federal Union of Journalists (PFUJ), told the minister about the termination of over 30 staff members by Daily Express.
Butt also informed him about the delay in payment of wages to employees by Geo, Waqt Group, and BOL News, and salary cuts slapped on workers.
The minister said the government was concerned over the protests and said the prime minister had directed the provincial information ministers to meet journalists, and others to resolve the issues.
Chaudhry said that the Pakistan Media Regulatory Authority (PMRA) would protect media workers, and they would have a right to appeal against layoffs and other problems.
The minister said that PTI government had paid off 50 percent dues to the media houses which the previous government had not cleared.
Butt said it was strange that although the owners were getting advertisements from the government, duty on newsprint cut down, and their outstanding dues cleared and yet they claim they are in a financial crunch.
Butt said the journalists want that the parliament passes a resolution for a forensic audit of last five years of media houses so that it becomes clear who earned how much, and where was that money spent.
It is hard to believe that this crisis unfolded in the past five months, Butt said.
The journalists' protest organized by Rawalpindi-Islamabad Union of Journalists (RIUJ) has continued for 17 days now.