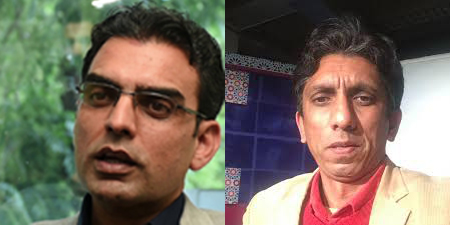 JournalismPakistan.com July 10, 2019


ISLAMABAD — Journalists Umar Cheema, Azaz Syed, and Wajih Sani had to deactivate their Twitter accounts reportedly after a request by their office which was pressured by the authorities to comply.
Cheema (pictured, left), who had over a million followers and Syed with more than 100000, deactivated their accounts three days ago, as did Sani.
Followed by nearly half a million tweeple, Sani's account was, however, active on Wednesday, but those of the other two remained off.
All three journalists belong to the Jang Media Group, with Cheema working for The News and both Syed and Sani associated with Geo TV.
The tweets, especially by these journalists, were often hard-hitting which did not go down well with the authorities.
Their tweets about a video leak involving accountability court judge Arshad Malik upset the officialdom. The two were even asked to delete some of them.
These tweets of theirs only increased pressure on their office, and that led to the deactivation of their accounts.
The Pakistani authorities had earlier complained to Twitter over some of Cheema and Syed's tweets regarding a video scandal that surfaced recently involving Chairman of National Accountability Bureau Justice (Retd) Javed Iqbal and a woman.
Pakistani media continues to face censorship in various forms, which is only getting severe. This week, three television channels — Abb Takk, Capital, and 24 News — were abruptly forced off the air. They were reportedly punished for their extensive coverage of a news conference by PML-N leader Maryam Nawaz, and her political rally last Sunday.