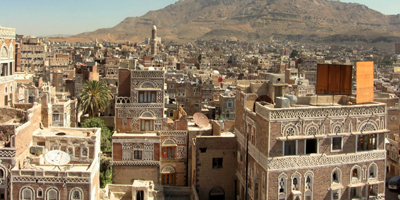 JournalismPakistan.com April 01, 2015
The International Federation of Journalists (IFJ) and its affiliate, the Yemeni Journalists' Syndicate (YJS), have expressed grave concern over the current escalation of violence in the country. They have urged all the parties to the conflict to immediately stop threatening and harassing journalists and media workers, accused of affiliating with rival parties and serving their interest.
The IFJ said in a Press Release that journalists in Yemen are facing increasing threats from several sides as the political and military situation in the country deteriorates. After the air strike campaign launched against Houthi militiamen by the Saudi led coalition - composed of Saudi Arabia, United Arab Emirates, Kuwait, Bahrain, Qatar, Sudan, Egypt, US, Jordan, and Morocco - a military spokesperson for the coalition stated last Sunday that media organizations associated with the Houthi rebels and the former Yemeni president Ali Abdullah Saleh are legitimate targets.
Media reports say the Yemen Today, a TV affiliated with Saleh received a phone call from the coalition last Sunday with warning that the TV channel and its staff were from that moment considered a military target. They had to evacuate the building for security reasons.
"The YJS condemns any action that undermines the safety of journalists and media workers, which would be a flagrant violation of media freedom and international laws," said the IFJ Yemeni affiliate in a statement. "The YJS holds the coalition responsible for insuring the safety of media workers. This was a reckless statement and if the threat is carried out all Yemeni journalists will be united to stand up against it."
The YJS also asked the Houthis to reconsider their decision to close down media organizations and blocking news websites, which is "an unprecedented campaign of collective punishment" against the Yemeni media.
On his part, the IFJ President Jim Boumelha asked the national journalists to unite around the YJS in this critical period.
"The IFJ fully backs its union in Yemen and urges all sides to stop harassing journalists in the country," said Boumelha. "The measures imposed by the Houthis and the statement launched by the Saudi lead coalition are both designed to crush an already narrow marring of freedom of expression and freedom of the press in Yemen. We urge all Yemeni journalists to unite around their union, which is leading fight against violence and extremism that is hitting the journalists' community".
Amid the recent increase in violence, two Yemeni journalists Abdulkarim al-Khaiwani and Khalid Mohammed al-Washli lost their lives since the start of 2015.