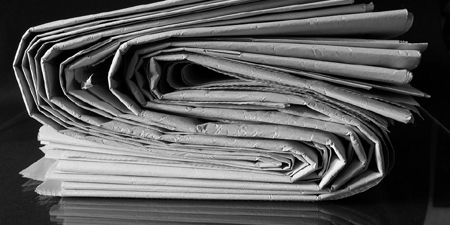 JournalismPakistan.com May 22, 2018


NEW YORK - Pakistani authorities should immediately halt any restrictions on the distribution of Dawn newspaper in Pakistan, the Committee to Protect Journalists said.
Distribution of the newspaper has been disrupted in many parts of the country in recent weeks, Dawn editor Zaffar Abbas told CPJ.
Pakistan Today reported May 17 that distributors in Balochistan were told not to distribute the newspaper because it ran an interview with former Prime Minister Nawaz Sharif earlier in May in which he made a controversial statement.
According to a source who asked to remain anonymous for fear of retaliation, military guards in Lahore searched bundles of newspapers carried by salesmen to prevent copies of Dawn from entering military cantonment areas.

Distribution of the paper has also been disrupted in the parts of Sindh and Punjab provinces, Abbas said. There have been ongoing disruptions in many military cantonments since October 2016, when Dawn published an exclusive report on the state of civil-military relations, Abbas said. "We believe it's the right of the military or any institution to buy or discontinue any newspaper," Abbas told CPJ. "Our only objection was on stoppages of delivery to civilians living in such cantonments."
"Military authorities are plainly behind this block on the distribution of Dawn, and they need to stop stifling access to information throughout the country," Steven Butler, CPJ's Asia program coordinator, said in Washington, D.C. "These censorship attempts are a grave threat to democracy and press freedom in Pakistan, especially as the country readies for a general election expected this summer."
In the Dawn interview with Sharif, he commented on the alleged involvement of cross-border militants in the 2008 Mumbai terrorist attack. Pakistan's civil and military leadership rejected Sharif's remarks at a National Security Council meeting, saying they were "incorrect and misleading," according to The Nation.
The Press Council of Pakistan - a media regulatory body, made up of government, media, and union members - issued a notice to Dawn regarding the article for "alleged violation of the ethical code of practice," pointing to a clause that calls on the press to avoid printing material that undermines Pakistan's "sovereignty and integrity as an independent country," according to The Nation. The Human Rights Commission of Pakistan and the Pakistan Federal Union of Journalists have both expressed concern over the Press Council notice, which they described as interference with right of the media to report the news.
As Pakistan prepares for elections in coming months, there have been ongoing reports of censorship on sensitive topics in the country, such as the Pashtun movement. In April 2018, CPJ documented the arbitrary suspension of Pakistani television channel Geo TV, which followed military displeasure over the station's news coverage, according to the New York Times. - A CPJ News Alert