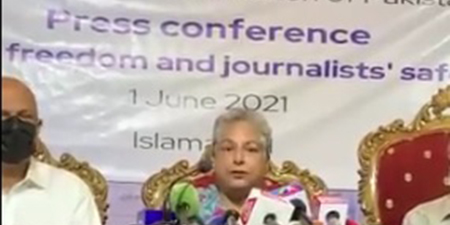 JournalismPakistan.com June 01, 2021


ISLAMABAD—The thrashing of a Pakistani journalist and the suspension of a-well known television talk show host for suggesting the military was behind it, has once again highlighted the risks associated with journalism in the country, as human rights groups criticized the developments on Tuesday.
"The government and the establishment (a euphemism for the military) have an agenda that violates the human rights and want to silence the civil society," Hina Jilani (pictured), the president of the nonprofit Human Rights Commission of Pakistan told EFE on Tuesday while releasing a report called "An end to fear and censorship."
"It is the army" which is to blame for the incidents, the lawyer-activist insisted.
The Pakistani military has ruled the country for half of its independent history, and even during civilian administrations it wields enormous influence in areas such as foreign policy and security.
Layoffs, court cases, killings, and beatings have been common tools to try and silence journalists in the country, the HRCP report said.
Journalist Asad Ali Toor became the latest target as he was beaten up at his house in Islamabad last week. The reporter is famous for questioning the powerful military's role in the country's politics through his YouTube channel.
Toor alleged in his complaint that one of the attackers in his house introduced himself as an officer of the Inter-Services Intelligence, Pakistan's main spy agency.
Later, Hamid Mir, arguably the most reputed TV host in the country, announced that broadcaster Geo had taken him off air from his program Capital Talk for suggesting that the military was behind the attack on Toor.
"I was banned twice in the past. Lost jobs twice. Survived assassination attempts, but cannot stop raising voice for the rights given in the constitution," Mir said after his suspension.
These developments come after a long list of attacks against journalists in the country.
In April, journalist Absar Alam was shot while taking a walk near his house in the capital. A month earlier, Ajay Lalwani died after being shot in the head while getting a haircut in Sukkur in Sindh province.
Jilani said this was a new "wave" of attacks on the press by the "frustrated" establishment in an attempt to silence it.
International bodies such as Reporters Without Borders (RSF) have also flagged similar concerns, with the media watchdog placing Pakistan at 145th place out of 180 countries in the 2020 World Press Freedom Index.
"The Pakistani media, (…) have become a priority target for the country's 'deep state' – a euphemism for the military and ISI – and the significant degree of control they exercise over the civilian executive," the RSF said. —EFE