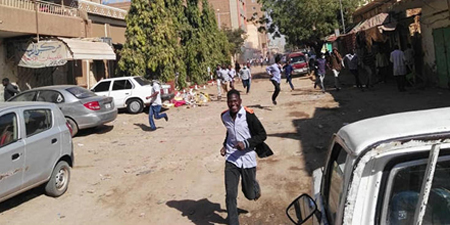 JournalismPakistan.com January 05, 2019


WASHINGTON D.C - The Committee to Protect Journalists on Saturday called on Sudanese authorities to release at least three journalists detained in recent days after publishing columns in support of ongoing, widespread anti-government protests that have included calls for President Omar al-Bashir to resign.
On Friday, National Security and Intelligence Service (NSIS) agents arrested journalists Faisal Mohamed Saleh and Ghurashi Awad in Khartoum and interrogated them about their coverage of the protests, according to a statement by the local independent press freedom group Sudanese Journalist Network posted on Facebook and several local news reports.
Security agents on December 30 arrested columnist Kamal Karrar from a café in downtown Khartoum, according to the news website Sudan Voices. He is also a member of the Sudanese Communist Party,
"Sudanese authorities must release these journalists immediately and respect the public's right to receive independent information and commentary at this critical time," said CPJ Middle East and North Africa Program Coordinator Sherif Mansour. "Locking up journalists who express support for protests will not make the protests disappear."
Independent news website Alrakoba reported that plainclothes Sudanese security officers arrested its columnist Saleh from his office in Khartoum, confiscated his phone, and took him to an undisclosed location. The website cited an eyewitness who said the security officers informed Saleh that the NSIS wanted him.
On December 28, Saleh appeared in an interview on the United Arab Emirates-based Al-Hadath TV, in which he criticized government officials' denial that there were high numbers of casualties among demonstrators and decried the lack of coverage of what is happening inside Sudan due to censorship of the press.
Saleh wrote on his Facebook page before his arrest that he was proud of the demonstration that took place in the city of Port Sudan, in eastern Sudan, the capital of the Red Sea state.
On December 31, Saleh posted a picture on his Facebook account of a New Year's cake with the hashtag used by protests in Arabic (Yaskot) calling on Bashir to step down.
Saleh, a frequent critic of the government's human rights and press freedom records and an award-winning journalist who writes for the Al-Araby pan-Arab news website and the Al-Taghyeer news website, among others, was arrested in 2012 by NISS agents at his home for three weeks after facing two weeks of harassment, CPJ reported at the time.
Awad, who writes for the Sudanese Communist Party-owned Almidan and the news website Al-Taghyeer, criticized Sudanese security's brutal suppression of anti-government protesters in his most recent column for Almidan on December 24, entitled, "The men in black."
Karrar, who writes for Almidan and Alrakoba, on December 30 highlighted the historic nature of the protests and sacrifices made by anti-government protesters.
In a separate incident on Friday, Sudanese security officers detained Alrakoba columnist Mohamed Abdel Majed after summoning him for interrogation over his writing on the protests, Sudan Voices reported. He was released the same day.
Abdel Majed, who also writes for the Alintibaha daily, in his January 1 column in Alrakoba criticized Sudanese authorities for their treatment of the protesters and their attempts to justify oppression of citizens.
CPJ was unable to determine if any of the journalists have been formally charged. NSIS did not immediately respond to CPJ's request for comment sent via email.
Since the protests began, the Sudanese authorities have attempted to stifle news coverage and disrupt access to the internet and social media networks, CPJ has documented. – A CPJ News Alert/Photo: AFP