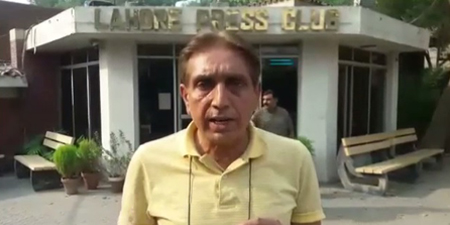 JournalismPakistan.com October 28, 2018


LAHORE – A senior Lahore-based journalist terminated recently by his employers Abb Takk Television is threatening self-immolation if media houses do not reinstate hundreds of laid-off workers.
In a short video posted on social media, Naveed Rizvi said that if his demand was not met, he would burn himself in protest exactly after 15 days.
"The owners have sacked employees without assigning any reason and not serving notices," he pointed out.
Describing his sacking, he said the admin officer handed him the termination letter when he returned to the office after covering a news conference.
Rizvi lamented that most of those fired were drawing salaries between Rs20,000 to 40,000. He called on the news organizations to cut pays of the big-earning anchors and not to make the low-scale staffers starve.
In the video clip, he also mentions that the government and the opposition parties had lent them no support.
"I want to convey a clear message to media owners that if they do not instate their employees, I will commit self-immolation."